Eurostar launches London-Amsterdam route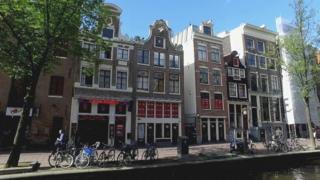 Channel tunnel train service Eurostar is launching a new service between London and Amsterdam.
Eurostar is due to launch the service on 4 April and it says the journey between London and Amsterdam will take three hours and 41 minutes.
Tickets will cost from £35 one way and it will be running two services a day.
Eurostar also says the new service will cut the journey time between London and Brussels by 17 minutes to one hour and 48 minutes.
Eurostar said that for an initial period, passengers will travel direct from London to Amsterdam, but on the return journey "will connect through Brussels where passport controls and security screening will be carried out".
It added the connecting return journey would be temporary until the British and Dutch governments reached an agreement to allow passport checks to be conducted on departure in The Netherlands, which it says should by in place by the end of 2019.
Eurostar said: "The launch of the London to Amsterdam service marks a historic milestone in the expansion of international high speed rail travel, revolutionising the connection between these important destinations."
It says more than four million passengers travel between London and Amsterdam by air each year and therefore the market is the same size as it was when the London-Paris services launched in 1994.
It points out that since then, the market for travel between London and Paris has more than doubled.