FTSE 100 lifted by Ashtead boost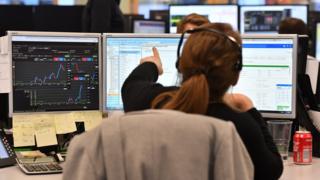 Shares in industrial equipment hire group Ashtead led the FTSE 100 higher after the firm said it should see increased demand in the US following Hurricanes Harvey and Irma.
The clean-up operation following the two hurricanes is expected to mean greater demand for diggers and tools.
Ashtead's shares were up 5.6% in early trade, making it the biggest riser on the FTSE 100.
The UK's benchmark share index was 8.97 points higher at 7,422.56.
Shares in Whitbread – the owner of Costa coffee shops and Premier Inn hotels – fell 3.3% after Citigroup downgraded its rating on the company to "sell" from "buy".
In the FTSE 250 index, shares in JD Sports jumped 5.3% after it brushed aside any fears of a downturn in the "athleisure" sector by reporting a big rise in both sales and profits.
In the six months to the end of July, sales rose 41% from a year earlier to £1.4bn with pre-tax profits climbing 33% to £103m.
On the currency markets, the pound rose 0.3% against the dollar to $1.3201 and edged up 0.1% against the euro to 1.1024 euros.