Homebase owners may close up to 40 stores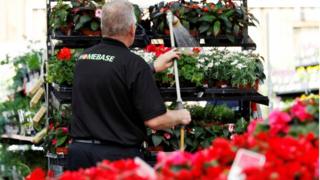 Up to 40 Homebase stores could be closed by its Australian owner, putting up to 2,000 jobs at risk.
Wesfarmers paid £340m for the DIY chain in early 2016 and has been rebranding the stores under the Bunnings name.
But after a "disappointing" performance the Australian firm has put Homebase under review and expects it to lose £97m in the first half of 2018.
Between 20 and 40 of its stores are performing so poorly that they might have to be closed altogether, it said.
As a result of Homebase's poor trading, Wesfarmers said it had written down the value of the chain by £454m.
"The Homebase acquisition has been below our expectations which is obviously disappointing," Wesfarmers managing director Rob Scott said.
"In light of this, a review of Bunnings UK has commenced to identify the actions required to improve shareholder returns," he added.
Homebase has 250 stores across the UK and employs 12,000 people.
Wesfarmers will announce the result of its review in June, so staff will have to wait until then to find out which stores are to close.
However, the Australian firm said it had been encouraged by the performance of stores that had begun trading under the Bunnings name.