Tiffany & Co suffers fall in US sales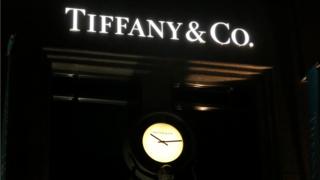 Tiffany & Co revealed a surprise sales slump in the Americas, its largest market, in its quarterly figures.
The exclusive jewellery shop sold fewer products than expected in the quarter ending 30 April and also suffered a drop of 4% in comparable sales.
The company has struggled to attract younger customers, with people switching to cheaper brands.
Worldwide sales in stores open for more than a year fell by 3% for the sixth straight quarter.
The company also sold 3% less in the Asia-Pacific region, although its net sales did enjoy a small rise to $899.6m (£694m) and net income went up to $92.9m (£71.6m) from $87.5m (£67.5m) a year earlier.
It added that it expected its net sales to increase by a single-digit percentage for the financial year ending on 31 January 2018.