UK manufacturing output falls in May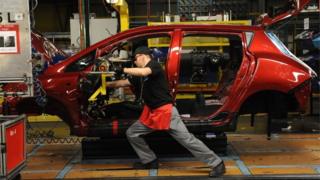 UK manufacturing output fell unexpectedly in May, with the sector hit by a drop in car production, according to official figures.
Manufacturing output fell by 0.2% compared with April, according to the Office for National Statistics (ONS).
Car production fell by 4.4%, the ONS said, the biggest fall since February last year
Separate data from the ONS showed that the UK's trade deficit widened in May.
The UK's total trade deficit in goods and services widened by £1bn to £3.1bn between April and May 2017 following an increase in imports from non-EU countries and a fall in the export of services.
In the three months to the end of May, the deficit widened to £8.9bn from £6.9bn in the previous quarter.
The fall in the pound after the decision by voters to leave the European Union has driven up the cost of imports, which has helped to push up inflation.
'Losing momentum'
The latest construction figures from the ONS were also much worse than expected.
In the three months to May, construction output was down 1.2%, the sharpest such drop since October 2015.
Peter Dixon, an economist at Commerzbank, said: "It's all building up a pattern here that says the economy is clearly losing momentum.
"It's not pointing to a particularly dynamic second quarter. Under those circumstances, the timing of the hawks on the Monetary Policy Committee pushing for a rate hike doesn't look great," he added.
The pound fell following the release of the weak figures, with sterling down 0.4% against the dollar at $1.2917.