US asks for CNN sale amid review of AT&T-Time Warner deal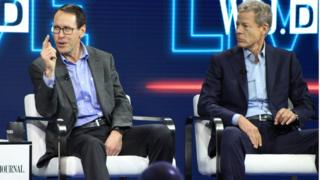 The US, in reviewing a planned $85bn merger between Time Warner and AT&T, has proposed the sale of assets such as CNN as a condition for approval.
Reports of the negotiations came as an AT&T executive said he no longer expects the deal to close this year.
Competition authorities have been scrutinising the takeover since it was announced in 2016.
Critics, who include US President Donald Trump, say it would concentrate media power.
The deal would combine AT&T, one of the largest providers of cable TV in the US, with Time Warner, which owns CNN, the Warner Bros movie studio and HBO.
At a conference in New York, AT&T chief financial officer John Stephens said "there are all kinds of benefits" to the combination and noted that the government has not blocked this kind of deal in decades.
But he told investors that the firm is no longer certain about timing, as active discussions with the Department of Justice continue.
Shares dip
He did not discuss the specifics of the negotiations, which Reuters and other media outlets reported based on anonymous sources.
Analysts had expected approval of the merger, so the development came as a surprise.
Shares of Time Warner fell about 6% to $89.00, while AT&T shares fell 0.2% before climbing 1.16% to $33.46.
Competition regulators at the Department of Justice are in charge of reviewing the deal.
They are looking at questions such as whether AT&T could raise prices for Time Warner content for other companies – higher costs that could eventually trickle down to consumers.
Earlier this year, lawmakers including Senator Amy Klobuchar, a Democrat from Minnesota, said the deal raises antitrust concerns.
But she also said its review should be free from White House influence.