Bombardier: Belfast workers to press MPs on Boeing row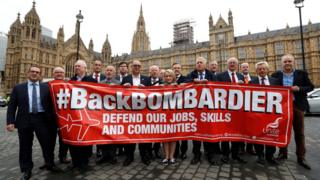 MPs have joined Bombardier workers outside the Houses of Parliament as part of a campaign to protect jobs in Belfast.
The workers, along with the trade union, Unite, displayed a large banner stating "#BackBombardier".
The group is due to meet Business Secretary Greg Clark later.
Bombardier, a Canadian aerospace company, is in a trade dispute with rival firm Boeing over alleged below-cost selling of its C-Series jet.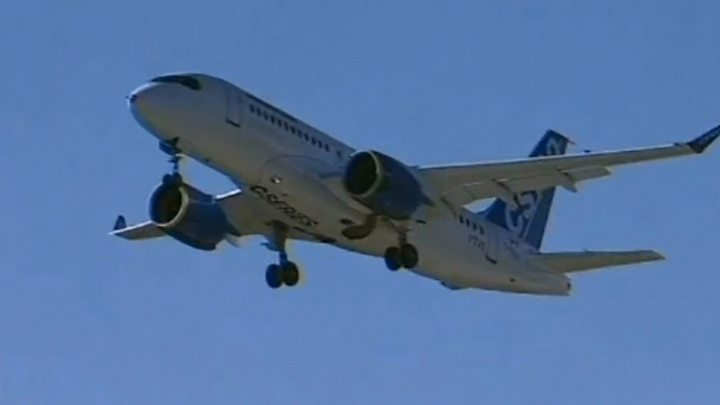 The row threatens jobs at Bombardier's Belfast plant, where parts of the C-Series jet, including the wings, are made.
Bombardier employs more than 4,000 people in Northern Ireland – and is one of its biggest private sector employers.
Last week, the US government imposed an import tax of 80% on the jets, on top of a 220% tariff that had already been set.
Prime Minister Theresa May spoke to US President Donald Trump on Tuesday night and discussed the importance of Bombardier jobs to Northern Ireland.
Analysis: Julian O'Neill, BBC News NI business correspondent
Wednesday's round of London meetings is all about keeping the Bombardier issue on the national agenda.
The government has already taken the side of the Canadian firm in its dispute with Boeing.
The DUP, whose support Theresa May relies on, is also ensuring it gets high-level attention.
But is this something which has the potential to threaten the supply and confidence deal? Highly unlikely.
The DUP is clear the real villains of the piece are Boeing and President Trump's Commerce Department, not the government it props up.
Speaking at the Westminster protest, Bombardier employee Dougie Jamison said it was important to remind MPs "how it is going to affect people on the ground".
"It is not just people in Canada or in Belfast – it is throughout Northern Ireland that this is going to affect people," he added.
Unite's regional secretary Jimmy Kelly said the intention was to "impress on the government" that it must do more on the issue.
"It is not good enough to just phone Donald Trump," said Mr Kelly.
"We need the government to speak to Boeing in a way that makes them realise their contracts with them are under threat."
The group will call on the prime minister to summon Boeing to a summit with Canadian Prime Minister Justin Trudeau.
On Tuesday, the government accused of "inaction" over the potential job losses.
But Mr Clark told the House of Commons that he understood the worry felt by the workforce, adding that the government would "vigorously and robustly defend" Bombardier's interests.