London attack: Royals lead Westminster service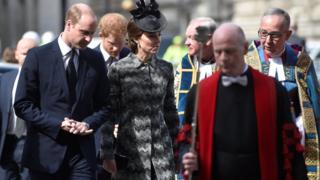 The Duke and Duchess of Cambridge are leading a 2,000-strong congregation at a "service of hope" following last month's Westminster attack.
Khalid Masood killed three people when he drove into crowds on 22 March and stabbed a policeman to death before being shot dead at the UK Parliament.
About 2,000 people are thought to be taking part in the multi-faith service, including relatives of the victims.
The royal couple and Prince Harry will meet victims relatives later.
Dean of Westminster, the Very Reverend John Hall, said the Royal Family were a "focus of unity" for the nation.
Home Secretary Amber Rudd gave the first reading at the service from Jeremiah 31: 15-17, reflecting the service's theme of hope. The second reading was made by Prince William.
Earlier, BBC correspondent Peter Hunt said the service would attempt to offer hope rather than being a memorial.
There would be a focus on the diverse nature of society, with prayers offered to protect the country from the forces of division and hatred, he said.
The service, which is being broadcast on BBC One, will include a Muslim prayer from London Mayor Sadiq Khan.
The victims were Aysha Frade, 44, who worked at a London sixth-form college; American tourist Kurt Cochran, 54, from Utah; retired window cleaner Leslie Rhodes, 75, from south London; and father-of-two PC Keith Palmer, 48.
It is the first time members of all their families have come together in the same place.
Commons Leader David Lidington and Met Police Acting Commissioner Craig Mackey are also there.
Attendance is by invitation only.
Get news from the BBC in your inbox, each weekday morning