Sir Michael Fallon denies 'lewd remarks' allegation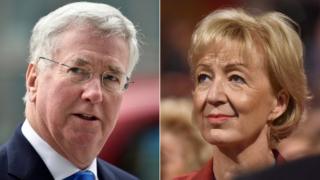 Former Defence Secretary Sir Michael Fallon "categorically denies" allegations that he made inappropriate sexual comments to Commons Leader Andrea Leadsom.
Reports in the Sun and the Daily Mail say Mrs Leadsom complained to Number 10 about her cabinet colleague, accusing him of making "lewd" remarks.
The claims come a day after Sir Michael resigned his post at the MoD, saying his conduct "fell short" of expected standards.
Mrs Leadsom has declined to comment.
The new allegations date back to between 2010 and 2012 when the two Conservative MPs were members of the Treasury Select Committee, at a time when Sir Michael was also deputy Conservative Party chairman.
According to the Sun and the Daily Mail, Mrs Leadsom remarked to Sir Michael that she had cold hands and he allegedly replied: "I know where you can put them to warm them up".
The newspapers claim Sir Michael was forced to quit as defence secretary after Mrs Leadsom complained to Prime Minister Theresa May about the alleged incident.
A source close to Sir Michael said he "categorically denies" the newspapers' claims.
Sir Michael confirmed on Tuesday that he was once rebuked by a journalist, Julia Hartley-Brewer, for putting his hand on her knee during a dinner in 2002, and he apologised at the time.
A day later, he resigned as defence secretary, telling the BBC: "The culture has changed over the years, what might have been acceptable 15, 10 years ago is clearly not acceptable now.
"Parliament now has to look at itself and the prime minister has made very clear that conduct needs to be improved and we need to protect the staff of Westminster against any particular allegations of harassment."
He was replaced on Thursday by Chief Whip Gavin Williamson.
Ms Hartley-Brewer said that if he had gone because of her knee, it would be "the most absurd reason for anyone to have lost their job in the history of the universe".
The BBC's deputy political editor John Pienaar said the manner of Sir Michael's departure and the role played by others in it was causing already "bad blood" in the party to bubble up.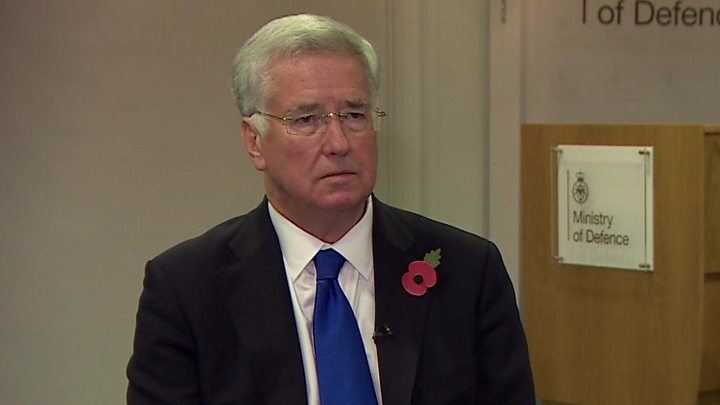 He said the Conservatives and other parties were struggling to keep pace with the daily stream of allegations against MPs and were, at the moment, reacting rather than being in command of events.
Former minister George Freeman said Theresa May had been right to accept Sir Michael's resignation and both the Conservatives and Parliament need to look at their culture to better "embody the values of our time".
He tweeted: "We don't need a witchhunt but we do need to show we are committed to the highest standards of conduct in the workplace."
Labour is also facing new claims of sexual harassment and has suspended an MP whilst it carries out an investigation.
Kelvin Hopkins, who has represented Luton North for 20 years, has been accused of sexually harassing a party activist.
A spokesman said Labour "takes all such complaints extremely seriously and has robust procedures in place".