Stephen Crabb MP cleared of inappropriate conduct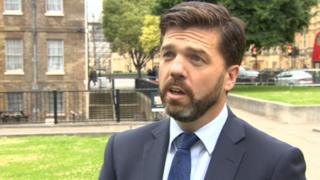 Former Welsh secretary Stephen Crabb has been cleared of breaching party rules following an investigation into allegations of inappropriate conduct.
The Preseli Pembrokeshire MP was alleged to have sent explicit messages to a 19-year-old who applied for a job in his office in 2013.
The Conservative Party found his behaviour fell short but it "did not constitute harassment".
Chris Pincher MP was also cleared after allegations of inappropriate conduct.
They had been referred to a disciplinary panel, set up under a new Tory code of conduct amid a number of allegations about MPs.
Referring to Mr Crabb's case, a Conservative Party spokesman said: "Following an investigation, a panel headed by an independent QC has concluded that Mr Crabb's behaviour did not constitute harassment.
"However, it found that his behaviour in this matter was inappropriate and fell short of the standards the party expects.
"The party chairman has reminded Mr Crabb of the need to adhere to the spirit and letter of the code of conduct at all times. He accepted this unreservedly and has made a full apology."
The married MP, who was Welsh secretary between 2014 and 2016, was one of several contenders for the Tory leadership who lost out to Theresa May.
Tamworth MP Mr Pincher stood down from the whips' office and referred himself to the Tory complaints procedure following reports that he had been accused of making an unwanted pass at former Olympic rower and Conservative activist Alex Story.
The party spokesman said: "Following media allegations, Chris Pincher referred himself to our code of conduct.
"Following an investigation, a panel headed by an independent QC considered the evidence and has concluded there has not been a breach of the code of conduct."