Theresa May on China trip to boost 'golden era' of trade ties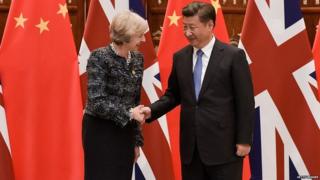 Theresa May is to embark on a three-day visit to China to boost "vital" trade and investment ties.
The prime minister will arrive in the country on Wednesday and travel to Wuhan, Beijing and Shanghai.
She will hold talks with Chinese President Xi Jinping and meet business leaders and students.
Issues likely to be discussed include North Korea and climate change. It is not clear whether they will include human rights in Hong Kong.
However, Mrs May said the relationship allowed for "frank discussions on all issues".
In recent years, both sides have hailed a "golden era" in UK-Sino relations.
China has signalled its desire to invest in high-profile UK infrastructure projects, including the building of a new nuclear reactor at Hinkley Point – although its involvement has raised some national security concerns.
British trade with China has increased by 60% since 2010 and UK ministers are expected to use the trip to stress that the UK will remain an "excellent place to do business" after it leaves the EU next year
During the three-day trip, it is expected Mrs May will focus on extending existing commercial partnerships rather than scoping out new post-Brexit deals.
"My visit will intensify the golden era in UK-China relations," she said ahead of the trip.
"We are working together to tackle global and regional security challenges such as North Korea, climate change and environmental pollution and to develop our strong bilateral trade, investment and cultural links.
"There are huge trade opportunities in China that we want to help British businesses take advantage of."
The UK has said it will prioritise negotiating free trade agreements with major trading partners such as the United States, Australia and Canada after it leaves the EU in March 2019.
Earlier this year, the UK said it would not rule out becoming a member of the Trans Pacific Partnership free-trade zone, whose members include Japan, South Korea and Vietnam and which is considered by many as a counter-weight to Chinese influence in the region.
Mrs May, who visited China last year for a G20 summit, will be accompanied by her husband Philip and the leaders of 50 British businesses and commercial organisations.
British chief executives will meet Chinese counterparts at the inaugural meeting of the UK/China CEO council.
Lord Patten, the last British governor of Hong Kong, has urged Mrs May to use the visit to privately raise what he says has been the steady erosion of freedoms and rights in the former British colony in recent years.
Hong Kong is supposed to have distinct legal autonomy under the terms of its handover to China in 1997.
In a letter to the PM, Lord Patten and ex-Lib Dem leader Lord Ashdown said its residents needed assurances that the UK's growing commercial relationship with China would not "come at the cost of our obligations to them".