Crane collapses at Falmouth Docks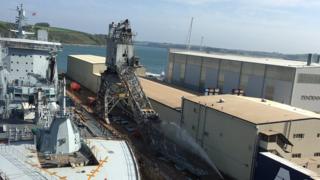 A crane has collapsed at Falmouth Docks in Cornwall, leading to the evacuation of the site.
The structure toppled on to the dockside with an "enormous bang" at about 09:00 BST.
There are no reported injuries, although the site had to be cleared because the crane collapsed on to 10 acetylene cylinders.
A 200m exclusion zone has been put in place while firefighters work to make the area safe.
Sarah Lucy, who lives on Cliff Road in Falmouth, said: "I got woken up by this almighty crashing and rumbling sound.
"Immediately the air raid siren started and then there were loads of sirens.
"All the roads are closed now and there are police everywhere."
More on the Falmouth crane story, and other news
The Royal Navy Lookout Twitter account, an unofficial local account, said the crane collapsed with an "enormous bang".
A&P Group, which owns the docks, said a full health and safety investigation would take place.
A statement from A&P said: "This morning there was an incident at A&P Falmouth involving one of the facility cranes.
"No-one was injured in the incident, however all personnel have been temporarily evacuated from the docks whilst an assessment of the area is made.
"Personnel will return to work as soon as possible."