Energy price cap plans to be published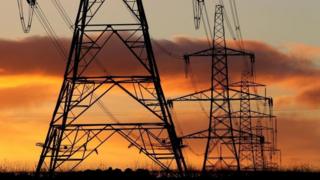 Draft legislation designed to lower the cost of energy bills is set to be published by the government later.
The Draft Domestic Gas and Electricity (Tariffs Cap) Bill will give energy regulator Ofgem the power to cap standard variable tariffs.
At present about 18 million customers are on some form of default tariff, which can cost hundreds of pounds a year more than the cheapest deals.
But the price cap is unlikely to take effect before winter.
The cap will be short term, until 2020, and possibly extended to 2023 if Ofgem decides that is necessary, the government said in a statement.
'Peace of mind'
Prime Minister Theresa May said: "I have been clear that our broken energy market has to change – it has to offer fairer prices for millions of loyal customers who have been paying hundreds of pounds too much.
"Today's publication of draft legislation is a vital step towards fixing that, and in offering crucial peace of mind for ordinary working families all over the country."
Business and Energy Secretary Greg Clark said that customers of the big six energy suppliers were "overpaying to the tune of £1.4bn a year".
"That is simply wrong. While five million households will see their bills capped from this winter, I want to see every household protected from rip off bills."
He added that the draft legislation would send a "clear message to suppliers they must act to put an end to loyal consumers being treated so unfairly."
Harming competition?
However, Steve Smith, director of energy switching firm Flipper and former Ofgem board member, said a cap was "quite likely" to push up fixed fees.
"A regulated price means people will switch off and think 'the government's looking after me'," he told the BBC.
He said it was clear that Ofgem was being told to implement the cap by the government, but the cap went against the advice of the Competition and Markets Authority.
"It could actually do harm to competition and means many customers will end up paying a lot more.
"If two-thirds of the market is covered by a cap you start to question whether it's a market at all."
The plan to cap energy charges was revived last week by Mrs May.
However, Ofgem said on Wednesday that it would have to wait for legislation to be in force before it could take action on standard variable tariffs.
The draft legislation will be scrutinised by a select committee of MPs. This is designed to build cross-party consensus on how the price cap will work.