Long Lartin: Prison staff 'attacked with pool balls'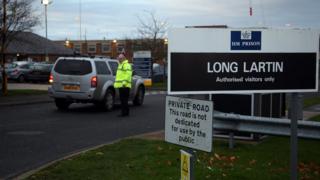 Up to 80 prisoners have attacked staff with pool balls at a high-security prison, the BBC understands.
A source said staff at HMP Long Lartin in Worcestershire had retreated from E wing after inmates became violent.
BBC Home Affairs Correspondent Danny Shaw said he understood about 10 "tornado teams" of riot officers had been sent to the prison.
The Ministry of Justice (MoJ) said: "We are currently managing an ongoing incident at HMP Long Lartin."
"We are absolutely clear that offenders who behave in this way will be punished and face spending extra time behind bars," the statement added.
Our correspondent said there had previously been serious violence in local and training prisons, but to have a disturbance like this at a high-security jail would cause alarm at the MoJ.
He said Staff on E wing had retreated and it had been secured, so the troublemakers could not go elsewhere.
There is also believed to be a separate protest elsewhere in the jail, our correspondent said.
The category A men's prison has a capacity of 622, with inmates serving a minimum of four years.
HMP Long Lartin is a maximum security jail which also holds category A prisoners awaiting trial.
---
Have you witnessed these events? E-mail us at haveyoursay@bbc.co.uk
You can also contact us in the following ways: