Snow and ice Met Office warning upgraded to amber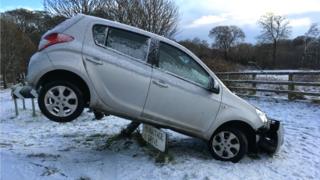 Weather warnings have been upgraded as snow and ice continue to affect large parts of Scotland.
The Met Office issued an amber alert for south west Scotland, extending to parts of the central belt, from Tuesday afternoon until Wednesday morning.
Scores of schools have been closed in the Highlands and Dumfries and Galloway after overnight snowfall.
Thundersnow is forecast in the west, with a warning that power supplies and mobile phone coverage may be affected.
The Met Office amber "be prepared" warning, which means transport and power supplies may be disrupted with a potential risk to lives and property, has been issued from 15:00 on Tuesday until 08:00 on Wednesday and also extends across much of Northern Ireland.
Longer spells of snow are expected, especially on Tuesday evening, with drifting over the hills in strong to gale force winds before the situation improves on Wednesday.
Areas in Scotland affected by the amber warning include Central, Strathclyde, south-west Scotland and Lothian, the Borders and some parts of Tayside and Fife.
Some high ground is likely to see 15-25 cm (6-10 inches) of snow building up, especially above 200-300m, with 5-10 cm (2-4 inches) more typical at low levels throughout the warning area.
Yellow warnings of snow are likely to remain in place across most of the country until late on Friday.
A number of roads have already been affected by snow and ice including the A9, M9, M80, A720 M77, M74, A7 and the M73.
Drivers travelling from Glasgow to Edinburgh were asked to avoid the M8 earlier on Tuesday due to long delays.
And difficult driving conditions led to a number of minor shunts across the country's roads network.
More than 50 schools have been closed in the Highland Council area, affecting 4,700 children.
The council said the closures included seven secondaries, 44 primaries, one special school and 24 nurseries.
Further south, Dumfries and Galloway Council said 20 schools were closed due to weather problems or heating failures. Some schools have also been closed in the East Ayrshire and Stirling Council areas.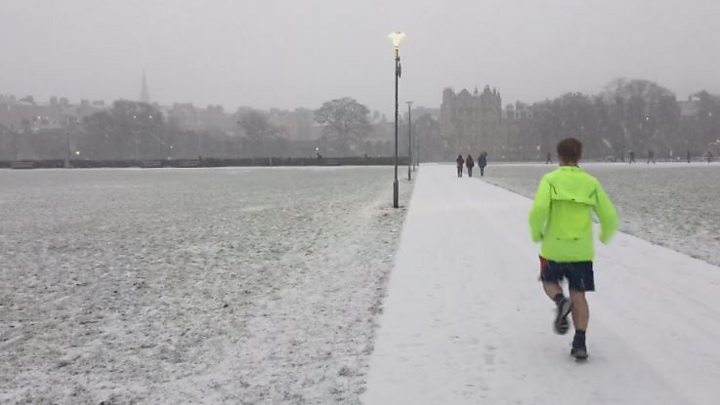 A number of airports were affected by the wintry conditions, with Inverness airport closed during the morning.
Flights in an out of Aberdeen were also disrupted and Glasgow airport was briefly closed while the runway, taxi and passenger routes were cleared.
Insp Darren Faulds, of Police Scotland's road policing unit, urged motorists to drive to the conditions.
"Today you'll see that weather conditions aren't that great in the west," he said. "We've got sporadic flurries of snow up and down the country all the way from the English border to central Scotland.
"All I would ask is that motorists adhere to the warnings they hear on the radio, drive to the conditions you see in front of you and be prepared to extend your journeys due to the weather conditions."
Stein Connelly from Traffic Scotland told BBC Radio's Good Morning Scotland programme: "We've experienced some challenging weather conditions through the night and into the morning peak.
"Overnight there were -5.5 degree temperatures [in some areas]. We had 148 gritters out and we are seeing some heavy snowfalls on some of the routes so it's challenging driving conditions just now.
"This is going to be the same over the next two or three days."
Traffic Scotland tweeted an image of the early-morning white-out conditions on the M8 at Easterhouse, and assured motorists that gritters were working hard to keep roads open.
The Met Office has issued a yellow warning for most of Scotland not covered by the amber alert.
At low levels 2-8cm (1-3 inches) of snow can be expected, but there may also be thundersnow – a thunderstorm with snow falling instead of rain – especially in western areas.
Forecasters said there was potential disruption to power supplies due to lightning strikes.