Snowdonia helicopter crash recovery resumes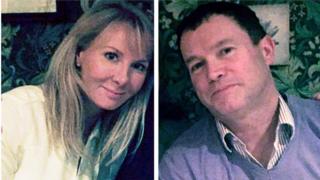 Recovery of the bodies of five family members killed in a helicopter crash in north Wales continues on Friday.
The operation was suspended overnight due to poor weather and the "challenging and hazardous terrain" at the Rhinog Mountains in Snowdonia.
Two of those on board have been named locally as Kevin and Ruth Burke from Hulcote, near Milton Keynes, who were travelling to a christening in Dublin.
Weather conditions remained "very poor" on Friday, North Wales Police said.
A search began on Wednesday when the aircraft vanished over Caernarfon Bay.
Experts from the Air Accidents Investigation Branch are on-site and it is understood the recovery of the aircraft could take about three days.
The wreckage will then be transferred to their base at Farnborough where the investigation will continue.
The Twin Squirrel helicopter was registered to Kevin and Ruth Burke, who are believed to have been directors of the Milton Keynes-based Staske Construction company.
They were travelling to Dublin, where Mrs Burke was born, with three other adult family members.
It is believed Mr Burke was originally from Manchester and was a qualified pilot.
The helicopter had left the Luton area before losing radar contact at about 16:00 BST on Wednesday and crashing in the Rhinog mountains between Harlech and Trawsfynydd in Gwynedd.
A mountain rescue team found the wreckage before the bodies of all five people were found.
Formal identification has not yet taken place and north west Wales coroner Dewi Pritchard-Jones has opened an investigation.
The family of those killed have been informed and the police have confirmed all five adults are "part of the same extended family from the Milton Keynes area".
Police have not revealed the exact location of the crash and have asked for members of the public to stay away from the area "to allow emergency services and personnel access" to the site.