Teenager killed in Walthamstow High Street stabbing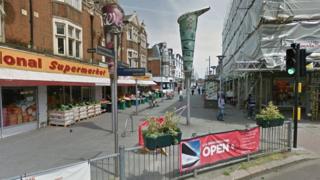 A teenager has died after he was stabbed in north-east London.
Paramedics found the 17-year-old when they were called to High Street, Walthamstow, shortly after 23:30 BST on Sunday.
He was taken to hospital but died. He is the ninth teenager to be fatally stabbed or shot in London this year.
The Metropolitan Police said they were awaiting formal identification, but next of kin have been informed. No arrests have been made.
The victim was the sixth to have died this year from stab wounds, while the other three were shot.
He was the second person to be fatally stabbed in the city in 48 hours, with the incident coming after the death of a 23-year-old man, who was found unconscious by police in Waterloo Road, Uxbridge, west London, early on Saturday.
According to official statistics released last month, knife crime in London increased by 24% in the year up to April, with 12,074 recorded offences.
Knife crime that resulted in an injury also increased, with a leap of 21% to 4,415 recorded incidents.