Theresa May to meet Donald Trump in Davos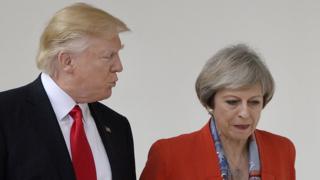 Prime Minister Theresa May and President Donald Trump will meet at the World Economic Forum in Davos next week, Downing Street has confirmed.
It comes after Mr Trump cancelled plans to open the new $1bn (£720m) US Embassy in London next month.
The White House said Mr Trump was "looking forward" to strengthening the countries' "special relationship".
Mr Trump is the first sitting US president to attend the forum in the Swiss city since Bill Clinton in 2000.