Three hurt in guest house 'gas explosion'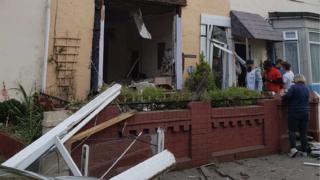 Two people are in hospital following a suspected gas explosion at a Blackpool guest house.
Fire crews and paramedics rescued two people who were trapped in the Charles Street building after what residents said was a "massive blast" shortly before 18.00 BST.
North West Ambulance Service said one person had "major trauma injuries".
Surrounding roads have been closed and residents in the street – and nearby Milbourne Street – were evacuated.
Lancashire Police advised people to avoid the area.
The force said people affected by the evacuation could seek shelter at St John's Church on Church Street or the Salvation Army citadel on Raikes Parade.
Neighbouring resident William Burrows described hearing a loud "whoosh", adding: "It was a total nightmare.
"Everything just came crumbling in… next door came down like a pack of cards."
Another local, Paul Marks, said: "There was water, dust and rubble everywhere. It was absolute carnage."