Trump golf course urination case starts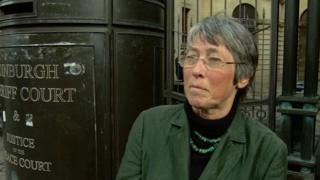 A privacy case against Trump International Golf Clubs Scotland is under way at a small claims court.
Rohan Beyts is accusing the company of breaching data protection law by filming her without her permission or notice.
She claims she was filmed by male employees as she urinated in sand dunes while out walking at the Menie Estate in Aberdeenshire a year ago.
Trump International has denied the claims.
The company was run by Donald Trump before he became the US president.
Medical condition
Ms Beyts told the court in Edinburgh that she had gone walking with a friend and had to pass through the Trump International Golf Club to get access to the beach.
She said that while on the beach she had gone into the dunes after realising that, due to a medical condition, she needed the toilet urgently.
She said she had taken notice of Mountaineering Scotland's guidelines for what to do if you need to urinate outside, and that she would have been horrified if anyone had seen her.
Three days later police officers arrived at her house to charge her with urinating in a public place that could cause annoyance.
Mobile phone footage
Ms Beyts said she was shocked and that she knew she had not done anything wrong.
After speaking to police on a further occasion, she was told three men had mobile phone footage of her urinating.
She said she felt quite upset as she had taken all possible steps to ensure she was not viewed.
Ms Beyts was reported to the procurator fiscal, but no action was taken against her. She in turn launched a claim for damages against Trump International.
On Monday, she told the court that she made no secret of the fact that she was opposed to the building of the golf course at Menie from its first planning stages, and that she had a democratic right to object – which she had always done within the law.