Iran protests: General declares 'sedition' defeated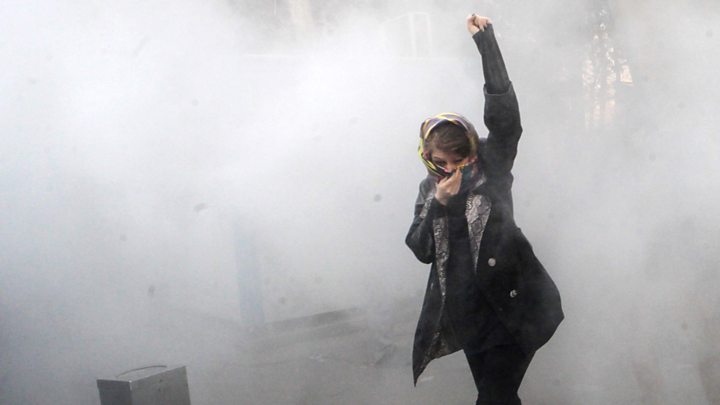 The head of Iran's Revolutionary Guards has declared the defeat of the "sedition" in the country, referring to a wave of anti-government protests.
Maj Gen Mohammad Ali Jafari made the announcement as tens of thousands of people attended pro-government rallies called to counter the unrest.
It began last Thursday in the city of Mashhad and has seen 21 people killed.
The protests were initially against price rises and corruption, but turned to wider anti-government sentiment.
They have been the largest since the disputed 2009 presidential election.
What was the general's announcement?
Gen Jafari said: "Today, we can say that this is the end of the 96 sedition," referring to the current year – 1396 – in the Persian calendar.
He said "security preparedness and people's vigilance" had led to the defeat of "enemies".
The general blamed anti-revolutionary agents, pro-monarchists and forces which he said had been "announced by [US-ex Secretary of State Hillary] Clinton to create riot, anarchy, insecurity and intrigue in Iran".
The "enemies" had tried to pose "cultural, economic and security threats against Islamic Iran", he said.
His comments echoed those by Supreme Leader Ayatollah Ali Khamenei on Tuesday, which also blamed unspecified "enemies" and which analysts believed referred to the US, Israel and Saudi Arabia.
What about the rallies?
State television broadcast some of the pro-government rallies live.
Among those holding events were the cities of Kermanshah, Ilam and Gorgan.
Some marchers carried Iranian flags and images of Supreme Leader Ayatollah Ali Khamenei.
In the city of Qom, marchers chanted "death to American mercenaries". Chants elsewhere included "the blood in our veins is a gift to our leader" and "the seditionist rioters should be executed".
Are protests still going on?
There were fewer reports of unrest overnight, although it has been difficult to confirm what has been happening on the streets of many cities, and social media were still carrying videos and other posts about the protests.
One unconfirmed report on Wednesday spoke of three policeman being killed in West Azerbaijan province.
The unrest has tended to begin after nightfall.