John McCain diagnosed with brain cancer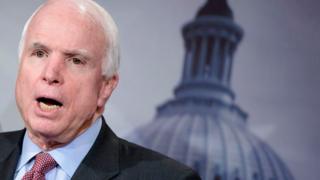 US Republican Senator John McCain has been diagnosed with brain cancer, his office says.
The 80-year-old senator is recovering at home in Arizona after undergoing a procedure to remove a blood clot from above his eye last week.
The senator is "reviewing further treatment options" a statement said, which may include a combination of chemotherapy and radiation.
A Vietnam veteran, he spent more than five years as a prisoner of war.
He is a six-term senator and was the Republican nominee at the US presidential election in 2008.