Russia Saratov crash: Investigators comb crash site near Moscow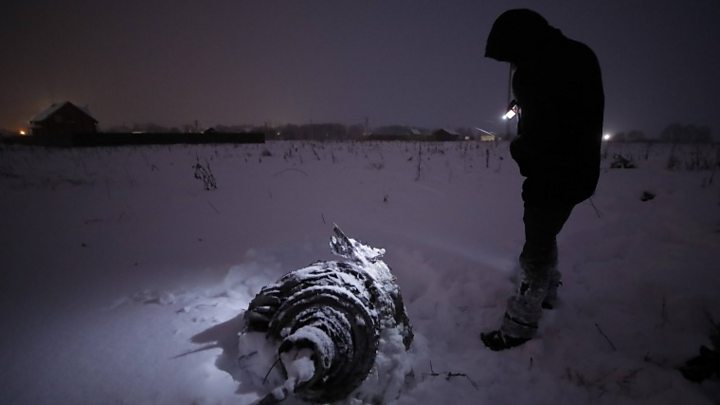 Russian investigators are searching snow-covered fields near Moscow for clues why a passenger plane crashed.
All 71 passengers and crew were killed when the Saratov Airlines jet went down minutes after taking off from Domodedovo airport on Sunday afternoon.
Officials say they are considering weather conditions, human error and technical failure as possible causes.
They did not mention the possibility of terrorism. The Antonov An-148 was en route to Orsk in the Ural mountains.
It crashed near the village of Argunovo, about 80km (50 miles) south-east of Moscow. Wreckage and body parts are strewn over a large area.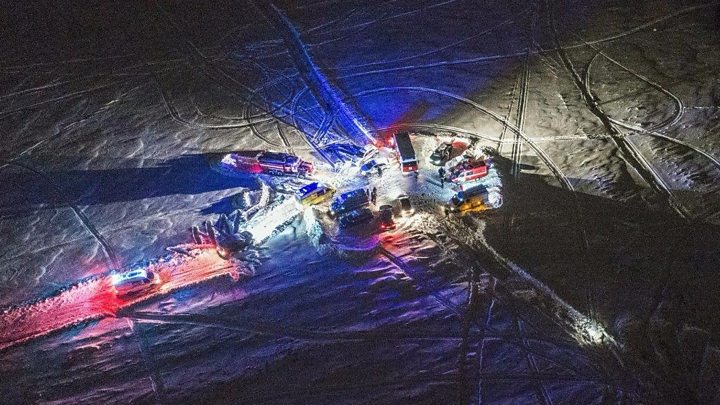 More than 700 people are involved in the search operation, with the remote crash site being searched on foot with the aid of drones.
The country's health minister said recovery of all the victims' remains could take up to a week.
President Vladimir Putin has expressed his condolences to the victims' families. Both the US and the UK governments said they were "deeply saddened" by the tragedy.
This is the first commercial passenger jet crash for more than a year – 2017 was the safest year on record for air travel.
What we know so far
The plane took off at 14:27 (11:27 GMT) on Sunday. Contact was lost minutes later.
Flight-tracking site Flightradar24 said it then descended at the rate of 1,000m (3,300ft) per minute.
The plane did not make an emergency call.
Eyewitnesses told Russian media that the jet was on fire as it plummeted.
A criminal inquiry has been launched for "violation of the rules for the operation of air transport, which resulted in the death of two or more people".
On Monday, emergency workers confirmed they had recovered the second flight recorder from the aircraft.
Who was on the plane?
The official list of passengers and crew has been published (in Russian) by the emergencies ministry.
DNA samples have been taken from family members to help identify victims.
A child and two teenagers were among the passengers, all but three of whom were from the Orenburg region where Orsk is located, city mayor Andrei Odintsov told Tass news agency.
Two passengers were from Moscow and a third from St Petersburg, he added.
At Orsk airport, a girl whose brother was on the plane was shouting "Bring me back my brother!", Novaya Gazeta newspaper reported. A man sat sobbing over his mobile phone.
The plane was being flown by an experienced pilot with 5,000 hours of flight time, the airline told Ria-Novosti news agency.
What do we know about Saratov Airlines?
Saratov Airlines is based in Saratov, 840km south-east of Moscow.
In 2015 it was banned from operating international flights when surprise inspectors found someone other than the flight crew in a cockpit.
The airline appealed against the ban and changed its policy before resuming international charter flights in 2016.
It flies mainly between Russian cities but also has destinations in Armenia and Georgia.
Antonov brand aircrafts were first developed in Ukraine, but also get made in Russia for regional airlines. The twin-engine model involved in Sunday's crash had its first flight in 2004, and was developed for short-haul routes.
In 2011, one broke up mid-flight during a training flight in the Belgorod region in southern Russia, killing all six crew members on board.
Recent Russian air disasters
The country has suffered two major plane crashes since 2015: