Syria conflict: Damascus hit by car bomb attack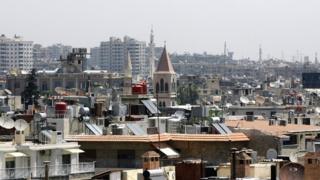 A suicide bomber has launched an attack in the Syrian capital Damascus, killing several people, state TV report.
Syrian police had been chasing three suspected car bombers that were trying to enter the capital, reports said.
Police stopped two of the vehicles, but the third driver entered Tahrir square and reportedly blew himself up after being surrounded.
Syria is in the midst of a six-year-long civil war, with Damascus still mostly under government control.
More than 300,000 Syrians have lost their lives in the war, which began with anti-government protests.
The UN's refugee agency says that since the conflict began in 2011, about 5.5 million people have left the country, and another 6.3 million have been left internally displaced.