Wimbledon champion Boris Becker declared bankrupt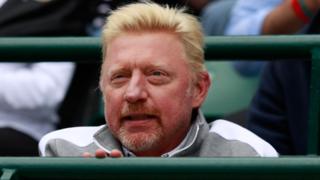 Three-time Wimbledon tennis champion Boris Becker has been declared bankrupt by a registrar who watched him play on the All England Club's Centre Court.
The 49-year-old owed a firm of private bankers a large sum and Miss Registrar Christine Derrett said it was "with regret" she felt there was not enough credible evidence that he could pay.
Mr Becker's lawyers asked for a final chance to pay through refinancing.
Mr Becker, now a coach and TV pundit, was not at the hearing in London.
When the registrar was told about Mr Becker's television work, she said she knew who he was, adding: "I remember watching him play on Centre Court, which probably shows my age."
'Head in the sand'
The bankruptcy application was made by Arbuthnot Latham in connection with a debt owed to them for nearly two years.
Mr Becker's lawyers had asked for another 28-day adjournment after revealing that they expected the remortgaging of a property in Majorca to be completed in a month's time.
However, the registrar rejected the plea and said: "It is not often the case that a professional person has a judgment (debt) outstanding against them since October 2015. This is a historic debt.
"One has the impression of a man with his head in the sand."
As well as his three victories on the grass courts at SW19, Mr Becker also won two Australian Open titles, and one US Open title.